Architecture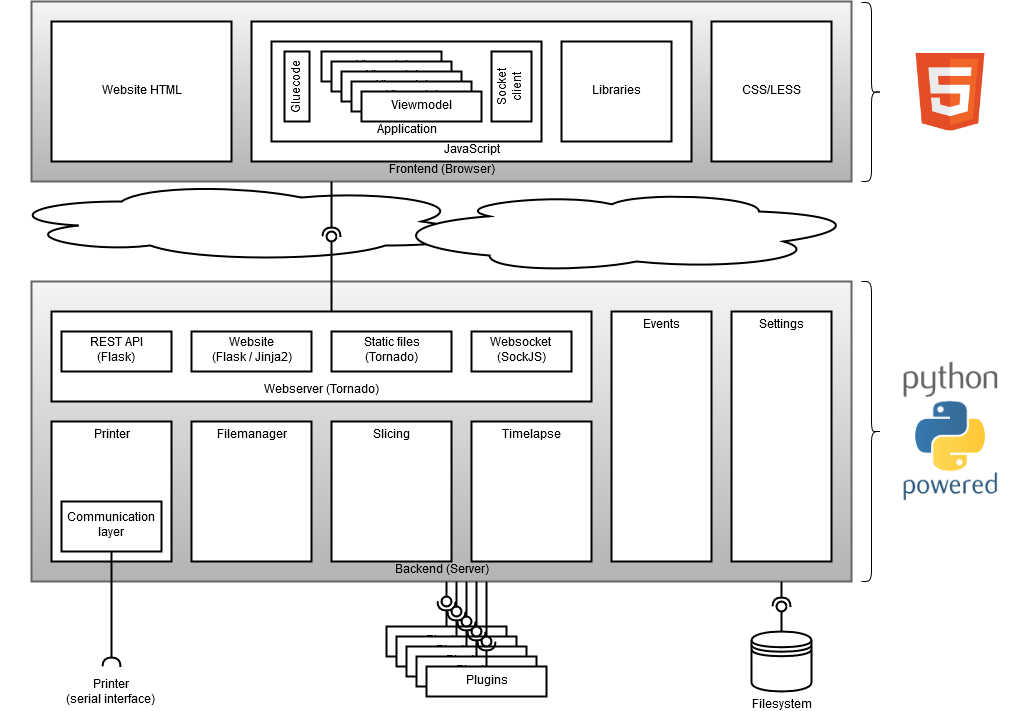 Target audience & platform
Audience: Owners of 3d printers = makers & tinkerers, some businesses

end users
rarely developers themselves

Platform: Small single PCB linux computers (Raspberry Pi)

e.g. Raspberry Pi
but: platform agnostic!
Challenge #1
Initial installation and keeping things up to date
Initial installation
Initial installation happens by the end user

😱 Bootstrap Python & pip install octoprint
😊 Preconfigured Raspberry Pi image: download, flash, wizard, done

And on something that is not a Pi?

Huge variety of encountered environments (Linux, Windows, Mac, FreeBSD, ...)
Code needs to anticipate that

E.g. IPv6 dual stack on Windows
Keeping things up to date
OctoPrint itself

😱 pip install -U octoprint
😊 Built-in update mechanism for OctoPrint & plugins

Rest of the environment

Done by some users, not by others, conflicting information
You are using pip version 10.0.1, however version 19.2.3 is available. You should consider upgrading via the 'python -m pip install --upgrade pip' command.
Result: unknown environment, sometimes broken environment, hard to test, additional support overhead
What about the image itself?
"Never touch a running system!"

Software stack quickly outdates

💡 Disable OctoPrint updates on ancient setups & provide migration path
Lessons Learned
Try to control runtime environment but stay flexible, make updates easy and use features as motivator for touching a running system.
Challenge #2
Maintaining backwards compatibility for 3rd party plugins
Maintaining backwards compatibility for 3rd party plugins
Plugin system since 2015 (1.2.0), over 170 plugins
Established plugin ecosystem => this is suddenly a platform that needs stability

Disgruntled authors = no ecosystem = disgruntled users

Problem: Dependency updates with breaking changes
Problem: Code refactoring
Problem: Python 2 vs 3
Lessons Learned
Read changelogs of dependencies (if you can find them), aggressively do version pinning, be prepared to work around breaking changes, make life easy for plugin authors.
Performance
Webinterface + several clients + keeping a printer running + plugins + ... 🤪
Locked to one thread at a time (GIL)
CPU bound tasks (message parsing, checksums, file analysis, ...)
Multiple processes non trivial due to needed data sharing (plugins)
Underlying platform often limited (RPi)
Lessons Learned
Extract CPU bound tasks if possible, be very conservative with resources, explore IPC options.
Challenge #4
No proper protocol specification
No proper protocol specification
No standard (mutation of GCODE CNC standard, sent/received over serial)
Responses undefined, requests mostly not well defined
"Specification" is a wiki page everyone can edit
There be dragons! 🐉 And they be huge!

New printer models cause issues again and again
As do very old ones (almost no one does git merge upstream...)
Introduces significant parser overhead and maintainence nightmares
Lessons Learned
Try to keep up 🤷‍♀️ and use plugins for quick workarounds
Challenge #5
Support overhead
Support overhead
Early days: Huge overlap between printer owners & DIY enthusiasts

Tinker happy
Google around for a solution
Capable of fixing stuff themselves

These days: Lots and lots of consumers

Many owners never had to tinker before
OctoPrint might be their first interaction with Open Source
and they might think they are dealing with a full blown company with support staff
Lessons Learned
Community building to delegate support (e.g. central forum) - let people help each other!